Our Radio Shows
Birthday Cake Winner
Robert Dunn
JOKE OF THE DAY
In honor of Ugly Truck Day..........
Nice Truck, did you lose a bet or something?
Your truck is so ugly, when you run a red light they turn off the cameras!
 Monday – Friday     6am-10am
"Wake Up With the Giant" with Rosco and Michelle. Rosco has been the voice and friend to generations of Miss-Lou listeners for over 30 years and Michelle has worked in recording studios, television and radio for over 20 years.  
The duo delivers a show that is full of information, news, weather, birthdays, the first joke of the day and a "Must Do's" list of community activities, local interviews and the absolute best country music.  If it's happening anywhere in the Miss-Lou, you'll hear about it on 95 Country's "Wake Up With the Giant" show with Rosco and Michelle.
Connect with Michelle Peyroux on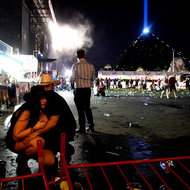 The company that owns the hotel in Las Vegas where a mass shooting took place in October of 2017 is now suing the victims of the shooting in an effort to avoid legal liability in the incident.
The Las Vegas Review-Journal reports that has MGM Resorts International has filed federal lawsuits against more than 1,000 victims who were shot or otherwise impacted by the mass shooting that took place on the third day of the Route 91 Harvest Festival on Oct. 1, 2017. MGM owns both the concert site and the Mandalay Bay hotel, where a lone gunman opened fire on the crow below from his window, killing 58 people and wounding hundreds and hundreds more.
450 of the victims banded together to file suits against both MGM Resorts and concert promoter Live Nation, claiming negligence in the shootings. MGM's filing argues that any lawsuits against the company "must be dismissed," saying, "Plaintiffs have no liability of any kind to defendants."
MGM's filings cite a federal act that gives liability protection to any company that uses "anti-terrorism" services or technology that are designed to "help prevent and respond to mass violence." MGM claims Contemporary Services Corp., the security company they used for the Route 91 Harvest Festival, could not be held liable because it had been certified by the Department of Homeland Security for "protecting against and responding to acts of mass injury and destruction." The suit argues that liability protection extends to MGM, since they hired the security firm. They are not asking for money from the victims, but they are asking for existing litigation to be thrown out.
MGM released a statement about the litigation on Monday (July 17), saying, "The Federal Court is an appropriate venue for these cases and provides those affected with the opportunity for a timely resolution. Years of drawn out litigation and hearings are not in the best interest of victims, the community and those still healing."
Las Vegas attorney Robert Eglet represents many of the shooting victims, and he responded to the lawsuits by accusing MGM of "judge shopping" by filing in federal court instead of state court, saying it "quite frankly borders on unethical."
"I've never seen a more outrageous thing, where they sue the victims in an effort to find a judge they like," he states. "It's just really sad that they would stoop to this level."
Connect with us!
Must Do's