Monday – Friday     6am-10am
"Wake Up With the Giant" with Rosco and Michelle. Rosco has been the voice and friend to generations of Miss-Lou listeners for over 30 years and Michelle has worked in recording studios, television and radio for over 20 years.  
The duo delivers a show that is full of information, news, weather, birthdays, the first joke of the day and a "Must Do's" list of community activities, local interviews and the absolute best country music.  If it's happening anywhere in the Miss-Lou, you'll hear about it on 95 Country's "Wake Up With the Giant" show with Rosco and Michelle.
Connect with Michelle Peyroux on
Your Phone Can Be Hacked by Charging It in Public
You've been there before. You're on errand number five for the day and your cell phone flashes a warning that it only has three percent battery left. So you stop for a cup of coffee, pop your USB charger into a public outlet at the cafe and your phone comes back to life.
But you shouldn't feel relieved just yet. While you'll be able to finish up your day without a dead phone, if the outlet or charging station you used was hacked you could seriously compromise your phone and the data on it.
"Just by plugging your phone into a [compromised] power strip or charger, your device is now infected, and that compromises all your data," according to a security firm.
In the same way that your USB cord can download photos from your phone to your computer, that cord can also transmit data between your phone and a compromised outlet — allowing a hacker to access your text messages, photos, contacts and email.
Since there's no way to tell whether or not a public outlet or charging station has been compromised, you should avoid plugging your phone into one in the future.
Here are a few more tips to help protect your phone:
1. This one is a no-brainer, but try to charge your phone at home as much as possible so there's less need to charge it in public.
2. Buy a portable USB battery pack and make sure it's always in your purse.
3. Invest in a USB cord that doesn't transmit data like most charging cords.
4. In a pinch, if you need to charge in a public outlet make sure your phone is locked with a PIN or a password. That way your phone shouldn't pair with any device it may be connected to, according to howtogeek.com.
MON FEB 20, 2017  | POSTED IN: COUNTRY PARENTING, KIDS & FAMILY | SOURCE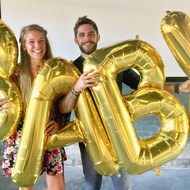 Thomas Rhett and his wife, Lauren Akins, announced the sex of their baby on the way on Saturday nightwith a special cake decorated after the lullaby, "Twinkle, Twinkle, Little Star."
Lauren, 27, took to Instagram to share a photo of the cake, complete with a gold crescent moon, gold stars, blue and pink frosting, as well as the first lyrics of the lullaby.
"…how we wonder what you are…" guess what we're doing tonight  @crumbdelacrumb," she wrote.
Hours later, the couple each shared videos of the reveal, which featured the country star, 26, cutting into the cake to discover the color pink.
The two received an ultrasound on Thursday and celebrated by going to get a sex-reveal cake. "Me and Lauren just did an ultrasound, and she is making me wait and her for us to find out if it's a boy or a girl. What do y'all think?" Thomas Rhett said in a video he posted on Instagram.
The couple revealed in February that they were expecting a baby and adopting from Africa. They kept the happy news under wraps until Lauren was past her first trimester, and until they were far enough into the adoption process to feel confident it would work out.
MON FEB 20, 2017 | POSTED IN: SUPER BOWL HALFTIME | SOURCE
After Lady Gaga performed at the Super Bowl earlier this month, the ratings showed that it was the second most-watched halftime show ever, just behind Katy Perry's 2015 show.  But now, the NFL is claiming that in fact, Gaga's show was the most-watched musical event OF ALL TIME.
How can that be?  Well, if you count how many people watched it on all the platforms on which it was available, the numbers add up.  While close to 118 million viewers caught Gaga on TV, they also watched on NFL's digital platforms, including Twitter, You Tube, NFL.com and NFL Mobile.  According to the NFL, all told, the show reached more than 150 million unique people.
An NFL exec said in a statement, "The Halftime show provides the ultimate world stage for an artist. Through her incredible music, choreography and unifying message, Lady Gaga created a unique performance that will remembered for years to come."
Courtesy of the NFL, here are a few stats, broken out by platform:
YouTube
The Halftime Show is the most-watched video on the NFL's YouTube channel, with more than 24 million views and more than 140 million minutes watched.
Twitter
During Lady Gaga's live performance, there were 2.2 million real-time tweets about the #PepsiHalftime show, as well as a total of 5.1 million tweets about the performance leading up to, during, and in the 10 minutes following.   
Facebook
More than 49 million video views, and more than 5 million reactions, comments, and shares.
Giphy
GIFs from the Halftime show generated more than 75 million views across GIPHY's network.