Our Radio Shows
Birthday Cake Winner  
Triniti Brown
JOKE OF THE DAY
I went out drinking on St. Patrick's Day, so I took a bus home.  That may not be a big deal to you, but I've never driven a bus before!
 Monday – Friday     6am-10am
"Wake Up With the Giant" with Rosco and Michelle. Rosco has been the voice and friend to generations of Miss-Lou listeners for over 30 years and Michelle has worked in recording studios, television and radio for over 20 years.  
The duo delivers a show that is full of information, news, weather, birthdays, the first joke of the day and a "Must Do's" list of community activities, local interviews and the absolute best country music.  If it's happening anywhere in the Miss-Lou, you'll hear about it on 95 Country's "Wake Up With the Giant" show with Rosco and Michelle.
Connect with Michelle Peyroux on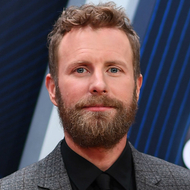 Dierks Bentley's set to host the fourth annual Music Teachers of Excellence Awards Tuesday, April 30 in Nashville.
In all, thirty music educators will be honored: ten from the Nashville metro area, ten more from across Tennessee, and ten from elsewhere in the United States. The event is put on by the CMA Foundation, which is the philanthropic arm of the Country Music Association.
Each teacher will receive $2500 to use in their own classrooms, as well as $2500 to use any way they'd like.
It's a cause that's personal to Dierks, since his own kids are studying music.
"These teachers have gone above and beyond in their classrooms to really bring music to life and their commitment and determination has not gone unnoticed," he says. "As a parent, I have seen first-hand the importance of music in my children's lives and its importance in school programs."
"Every child deserves the chance to feel the power of music, and it's not possible without supporting these teachers," Dierks adds.
This is just one of the programs funded by the proceeds from Nashville's annual CMA Fest.  Artists like Dierks donate their time so the proceeds can go toward music education all across the U.S.
Connect with us!
Must Do's