Our Radio Shows
Birthday Cake Winner 
 Della Floyd
JOKE OF THE DAY  
I What do you call a cow that dosen't give milk?
A milk dud?  No, wait, an udder failure!
 Monday – Friday     6am-10am
"Wake Up With the Giant" with Rosco and Michelle. Rosco has been the voice and friend to generations of Miss-Lou listeners for over 30 years and Michelle has worked in recording studios, television and radio for over 20 years.  
The duo delivers a show that is full of information, news, weather, birthdays, the first joke of the day and a "Must Do's" list of community activities, local interviews and the absolute best country music.  If it's happening anywhere in the Miss-Lou, you'll hear about it on 95 Country's "Wake Up With the Giant" show with Rosco and Michelle.
Connect with Michelle Peyroux on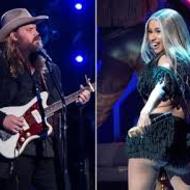 Nothing sums up the diversity of the city of Houston quite like the musical lineup for this year's Houston Livestock Show and Rodeo. While traditionally a mainly country music event, 2019 RodeoHouston features artists from pop, Latin pop, hip-hop and Tejano, as well as country.
The Grammy-nominated Kacey Musgraves kicks off the three-week event on February 25th, with George Strait wrapping up the concert series on March 17th. In between, it's a strong bill of popular all-genre music: country kingpins Chris Stapleton, Luke Bryan, Luke Combs, Zac Brown Band and Cody Johnson; pop and hip-hop performers Cardi B and Camila Cabello; EDM star Zedd; and classic-rock guitar hero Santana. Latin pop singer Prince Royce is also slated to perform, while Tejano group Los Tigres del Norte anchor March 10th's Go Tejano Day.
Held at NRG Stadium since 2003 but first started in the early 20th century, RodeoHouston is a highlight of the city's yearly calendar and features livestock, live rodeo events and a barbecue competition, in addition to the nightly concerts.
"Though the Houston Livestock Show and Rodeo remains deeply rooted in country music, we are also proud to be a part of our wonderfully diverse community," Rodeo president and CEO Joel Cowley said in a statement. "As such, we are excited to present a wonderfully diverse and talented 2019 lineup that will welcome 12 newcomers to the rotating stage."
Past performers have included Beyoncé, Dixie Chicks, Taylor Swift and Willie Nelson.
Here's the full lineup:
February 25: Kacey Musgraves
February 26: Prince Royce
February 27: Brooks & Dunn
February 28: Luke Bryan
March 1: Cardi B
March 2: Turnpike Troubadours
March 3: Panic! At The Disco
March 4: Old Dominion
March 5: Camila Cabello
March 6: Luke Combs
March 7: Tim McGraw
March 8: Zedd
March 9:  Kane Brown
March 10: Los Tigres del Norte
March 11: Zac Brown Band
March 12: Kings of Leon
March 13: Santana
March 14: Chris Stapleton
March 15: Cody Johnson
March 16: Brad Paisley
March 17: George Strait, with Lyle Lovett and Robert Earl Keen
It's officially holiday season, which means the television specials have begun. Whether you're looking for something to put on in the background while decorating the tree or want to cozy up with a cup of cocoa in front of the TV, below is the full list of the 2018 holiday specials. Quick note: While not on the list below, you can click here for Hallmark's Countdown to Christmas lineup and Lifetime's It's a Wonderful Lifetime lineup!
Friday, December 21
A Home for the Holidays: The 20th Anniversary (CBS at 8 p.m. ET)
I Want a Dog for Christmas, Charlie Brown (ABC at 8 p.m. ET)
Sunday, December 23
The Year: 2018 (ABC at 9 p.m. ET.)
Monday, December 24
It's a Wonderful Life (NBC at 8 p.m. ET)
Christmas Eve Mass (NBC at 11:30 p.m. ET)
Tuesday, December 25
Disney Parks Magical Christmas Day Parade (ABC at 10 a.m. ET)
How the Grinch Stole Christmas (NBC at 8:30 p.m. ET)
Thursday, December 27
Happy New Year Charlie Brown (ABC at 8 p.m. ET)
Rudolph's Shiny New Year (ABC at 9 p.m. ET.)
Monday, December 31
Dick Clark's Primetime New Year's Rockin' Eve With Ryan Seacrest (ABC at 8 p.m. ET)
NBC News Special: A Toast to 2018! (8 p.m. ET.)
NBC's New Year's Eve (10 p.m. ET.)
Tuesday, January 1
130th Annual Tournament of Roses Parade (NBC at 11:30 a.m. ET)
Connect with us!
Must Do's