Our Radio Shows
click here to
This week's Workplace of the Week:
Air Evac Lifeteam nominated by Patricia Lozon
FIRST JOKE OF THE DAY
"Boss, can I take tomorrow off? My wife really needs help with Spring cleaning," asks Joe.
"Are you out of your head, man? I can't give you a day off for this!" rumbles the boss.
"Oh thanks a lot, boss," Joe smiles, relieved, "I knew I could rely on you!"
Welcome to the South's Country Giant!
About 95 Country
WQNZ-FM 95 Country. Great country music, local personalities, local, regional and national news, weather and features. Size does matter! We are the ONLY 100,000 watt station in the region and we reach 35 counties and parishes in Southwest Mississippi and East Central Louisiana. By designation of the FCC, 95 Country is the regions primary news, weather and emergency source. Award winning Public service programming and veteran announcers.
No matter when you listen, if you are a country music fan, you'll love what you hear on 95 Country!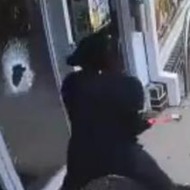 AUSTRALIA -- Australian police shared video from a failed burglary involving a man who attempted to use a hammer to smash his way into a cafe.
Victoria Police said the video, recorded just after 6 p.m. March 3 by security cameras at the Burnside Heights cafe, shows two men pull up in a Nissan Maxima sedan that had been reported stolen.
A man with his face covered gets out of the vehicle and starts using a hammer to strike the glass door of the cafe.
The man succeeds only in making a small hole in the door, and his attempts to expand the opening prove to be slow-going.
The man eventually gives up and gets back into the car, but not before struggling with the locked door of the vehicle.
Police said the two men are also believed to have been involved in a home invasion and armed robbery the previous day.
The Brimbank Crime Investigation Unit is attempting to identify the suspects, police said.
Connect with us!
Must Do's
Our Anniversary Cake winner from Wake Up With The Giant and The Markets:
Noble & Fayla Guedon