Our Radio Shows
click here to
This week's Workplace of the Week:
Air Evac Lifeteam nominated by Patricia Lozon
FIRST JOKE OF THE DAY
Two Irish mothers, Kate and Lorna were talking about their sons.
Kate says, 'My Patrick is such a saint. He works hard, doesn't smoke, and he hasn't so much as looked at a woman in over two years.'
Lorna responds, 'Well, my Francis is a saint himself. Not only hasn't he not looked at a woman in over three years, but he hasn't touched a drop of liquor in all that time.'
'My word,' says Kate, 'You must be so proud.'
'I am,' announces Lorna, 'And when he's paroled next month, I'm going to throw him a big party.'
Welcome to the South's Country Giant!
About 95 Country
WQNZ-FM 95 Country. Great country music, local personalities, local, regional and national news, weather and features. Size does matter! We are the ONLY 100,000 watt station in the region and we reach 35 counties and parishes in Southwest Mississippi and East Central Louisiana. By designation of the FCC, 95 Country is the regions primary news, weather and emergency source. Award winning Public service programming and veteran announcers.
No matter when you listen, if you are a country music fan, you'll love what you hear on 95 Country!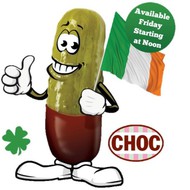 Cleveland Pickle Co. is teaming with Malley's Chocolates for an unlikely St. Patrick's Day product: Yes, chocolate-covered pickles.
Sales start Friday at noon and continue through Saturday at all 23 Malley's stores.
Four spears, coated in chocolate, will sell for $9.99.
"About half of the people I talk to are naysayers," said Dan Malley, vice president of marketing for his family's business. "But they know our track record for selling chocolate-covered grapes and chocolate-covered strawberries. Even if they don't like the idea, they say they've got to try it."
Joshua and Kiaran Kabat, owners of Cleveland Pickle Co., came up with the idea while developing Preggo Pickles, a line of pickle flavors for pregnant women with  flavors such as garlic and dill, ginger and lemon. They expect to launch the line in jars in a few weeks, Joshua said.
"We'll be selling them online and any way we can," he said. "When we're in stores, we hope to be in the baby goods section rather than the pickle section." His wife, Kiaran, he said, was a pickle fanatic during her two pregnancies.
"I'm surprised no one has done this yet," he said of the new product.
The perishable, limited edition chocolate pickles will be sold in boxes, not jars, so Joshua approached the Malley family to work together on a way to make the coated pickles still juicy but not soggy, said Dan Malley. "They're crunchy salty and sweet, the perfect trifecta," said Malley.
MISSISSIPPI RIVER FLOOD UPDATE
839 PM CDT Thu Mar 15 2018


The Flood Warning continues for
  The Mississippi River At Natchez
* until Tuesday March 27.
* At  8:00 PM Thursday the stage was 56.8 feet.
* Moderate flooding is occurring and Major flooding is forecast.
* Flood stage is 48.0 feet.
* Forecast...The river will continue rising to near 57.2 feet by Monday
  morning.


&&

              Flood    Observed        Forecast 7 AM      Crest
Location      Stg   Stg Day  Time   Fri   Sat   Sun Crest Time  Date

Lower Mississippi River
Natchez        48  56.8 Thu 08 PM  56.9  57.1  57.1  57.2 07 AM 03/19

Connect with us!
Must Do's
Our Anniversary Cake winner from Wake Up With The Giant and The Markets:
Mary Evelyn Cupit